Den McHenry
Front-End Developer
I work on user interfaces, with an eye toward accessibility in the service of solid content strategy. I'm always going to ask why this content exists, what problem we're trying to solve, and how we can make sure it's sustainable.
More Specifically
I'm currently hard at work at the University of Washington, where I maintain the front end of the School of Law's website, writing HTML, CSS, JavaScript, and C# to build user experiences in partnership with some terrific backend folks.
I'm about to embark on a redesign, build, and migration of the student portal, while continuing to iterate on improvements to our public-facing web properties.
Ersatz Cartoonist
I know everyone says that black and white are unnatural colors on the web, but my heart has always belonged to India ink and indie comics, even though I never made that a career.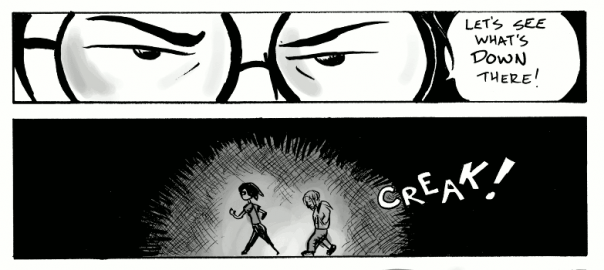 But I still find outlets
I had a webcomic called Apocalopolis for a while, which no one read, and, boy, was it a mess. But trying to rush out a daily page of a serial comic made me realize I could maybe actually do it, and it was actually a big breakthrough for me in beginning to come to terms with anxiey and depression, and all of the baggage that comes with it.
I still think I'm going to grow up to be a cartoonist, but I get by with off-the-cuff semi-regular whiteboard drawings at work, ink sketches, and drawings for my kids.